Annual celebration held as Covid-19 safe caravan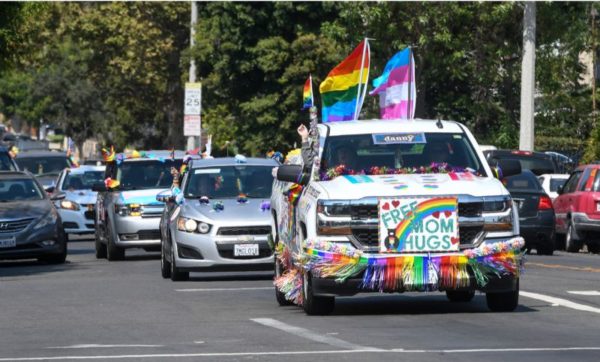 The second annual Whittier Pride celebration, created in partnership with the Whittier Pride Committee, was held on Saturday, September 26 as the Whittier Pride Ride.
"The committee's focus always surrounds the overall health and safety of the fabulous LGBTQ+ community, allies, advocates and families. With this in mind, we made a decision to replace the festival style event this year, due to Covid-19, with a unique in-person, but contactless celebration," said Sayaka Ponce, Executive Director of Whittier YouthBuild.
More than 120 vehicles carrying over 340 participants traversed the city in a predetermined route highlighting local landmarks and supporting local businesses. True to the times, the free and family-friendly event was live streamed showcasing virtual drag performances and special appearances from elected officials.
The inaugural Whittier Pride celebration, held in September 2019, drew unprecedented crowds of more than 5,000 to the city's historic heart of Uptown. Due to last year's success and overwhelming support, the Whittier Pride Ride aimed to continue to advance the original goal of promoting visibility and the creation of safe spaces for LGBTQ+ residents.
Proceeds from donations and sponsorships of Whittier Pride Ride 2020 benefited Whittier YouthBuild and its future LGBTQ+ Youth Center to service the San Gabriel Valley and Southeast Los Angeles-area.
For more information please visit www.whittierpride.org